The Franchise Matchmaker
Have you considered exploring franchise opportunities but not sure where to start? We can get you started, first by determining the types of opportunities that interest you – then guide you through the process. It is your search – but we can expedite the process and save you time.
Learn More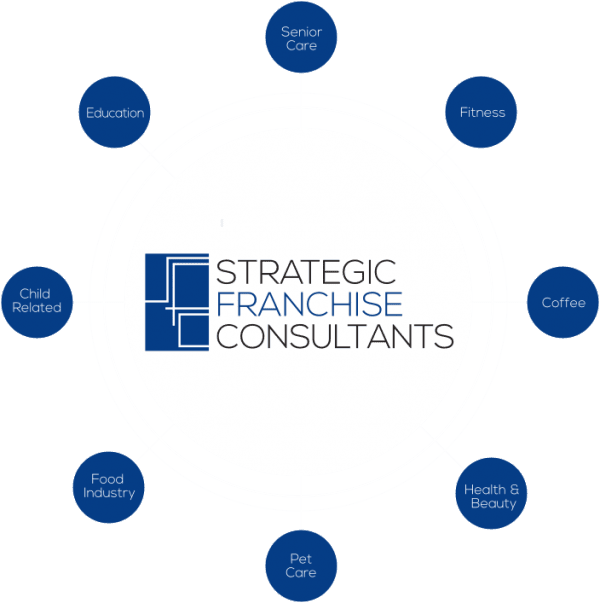 Find Your Future
Live Your Dream!
Finding the right franchise opportunity can be an exciting yet daunting process. We can narrow the search by helping you focus on opportunities that seem to match your personal needs and goals.
Our consulting services are available to you at no cost or obligation regardless of how much time we spend helping you search for the right franchise opportunity.
With years of experience and real-world knowledge we can introduce you to a wide variety of national and international franchises across all industries.
We work closely with our clients to determine their skills, interests, lifestyle and goals. Then we assist them through the process of making a sound decision that meets their needs.
Welcome To Strategic Franchise Consultants
As strategic franchise Consultants our goal is to develop a relationship with each client, to understand their goals, values, family situation, strengths and weaknesses. Then after educating them on the basics of the industry we can help them decide if franchise ownership is a viable option for them. If they ultimately decide to explore franchise opportunities, we can save them time and effort by helping them to quickly "zero in" on only those opportunities that seem to fit their needs. If they find a concept they really like, we can assist them as they perform their "due diligence" in order to determine if that franchise is really the right one for them. Ultimately our goal is to help people take control of their own destiny – so they can "find their future and live their dreams"
I was connected with Kevin Doyle through a mutual acquaintance, after extensively investigating franchise and business start ups for over a year. Despite my research, Kevin was a key resource in helping me find many more opportunities than I previously thought available. He listened to my interests/passions and was able to connect me with a franchise that was a perfect fit within the health and fitness industry.
Kevin also went above and beyond in several instances. For example, he was also helped me research and identify even more cost-effective business insurance than I was able to find on my own. Furthermore, Kevin would periodically check-in and follow up to make sure I had everything I needed to ensure my success throughout the process. There was no point in the process where I felt alone or like just another sale.
If considering buying or selling a franchise, I enthusiastically recommend setting up a discussion with Kevin Doyle.
Kevin Doyle and Strategic Franchise Consultants have been a pleasure to deal with in selling my Franchise. After months of trying to sell my franchise independently, I sought the assistance of a professional. SFC not only met but exceeded my expectations in every way. Kevin's communication was excellent and he was always available, practically 24/7. There were honestly no negative aspects of dealing with this company. If you are in the market of selling your business, SFC will guide you every step of the way and make the transaction much easier.
I thought to share my experiences working with Kevin Doyle to help my company ClaimTek find professional candidates who are suitable to become successful entrepreneurs. Kevin keeps a very professional and dedicated focus on making sure his clients are ready to become business owners. He always does a great job following up and staying engaged with his clients even after the hand off to us. That goes a long way in helping people reach the finish line because of the smooth, consistent support he provides during the process. I would highly recommend working with Kevin as a franchise consultant. I'm sure you'll enjoy the working relationship (friendship) you will develop with him, not to mention the added business revenue he can help your company generate. Thanks for the support Kevin, you're the man!
"I have known Kevin for just over five years and he has proven to be a person who cares deeply about both his clients and the brands that he is matching them with. He has made many quality introductions and more importantly many of those introductions have turned into quality franchisees who represent our brand with excellence. Looking forward towards many more shared successes."
When I started my franchising journey, I had no idea of what I wanted, how much it would cost, or how the process worked.  During my first conversation with Kevin, we spent almost 75 minutes talking about opportunities where I could work from home, were not too expensive, and where I could be successful quickly.  During this conversation, I felt no pressure from Kevin to investigate franchising or committing to any amount of money.  The biggest obstacle I faced was being able to convince my wife that franchising was something I could be successful and make money.   
Kevin conducted his search with these parameters in mind and came back with a promising opportunity with a medical billing company, something I certainly never had considered.  Kevin explained the pluses and minuses of the company in detail and the opportunity sounded very interesting.  Once again, the drawback was my wife.  But Kevin suggested that I involve her in every step of the vetting process.  Kevin was correct.  Involving my wife was vital in us coming to an informed and united decision to move forward with the medical billing company.  
Without Kevin's fantastic help, I would not be heading off on my new career.  Kevin talked me through the vetting process, the reference process, and stayed involved while the final decision was being made and the paperwork was being sorted out with the medical billing company.  I owe Kevin a great debt of gratitude and a job well done. 
Kevin gets it done!!! No excuses, none of the usual empty promises. Kevin is persistent, extremely knowledgeable and personable. He is a deal maker thru and thru. Kevin is well versed with the buy side as well as sell side and knows how to bring multiple parties together to close a deal.